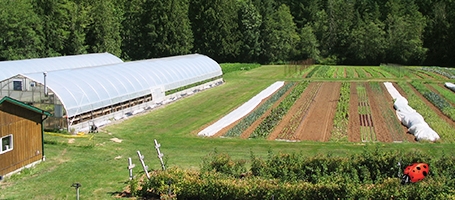 Welcome to Pattison Farms
We are a small certified organic vegetable farm, growing the highest quality specialty vegetables. You can find our produce at some of the finest local restaurants and specialty markets in the Comox Valley, as well as from our Farm Stand located in Black Creek. We also produce and sell vegetable starts for the at home gardener.
Choosing produce from Pattison farms will ensure that your family will enjoy the freshest, healthiest foods available.
Navigate through our website to learn more about our farm, a current list of produce or a map to find your way to our farm stand.
About Us
Gerry and Dagmar Pattison have been operating their Certified Organic family farm since 1998. It began as a split operation with part of their farm at their home at Saratoga Beach, where they produced vegetable bedding starts for the at-home gardener and garden centers, along with a few vegetables, and the second part on a 10-acre farm site where they grew the majority of their field crops. In 2002 they took the step to combine both and purchased the present 15+ acre farm site at Dzini Rd in Black Creek mid-way between Courtenay and Campbell River BC. At this new site they have expanded their production with 3 green houses and 4 acres of field production and small orchard. The greenhouses allow for producing food even earlier in the season for some of the Valley's best restaurants.
At Pattison Farms, food is grown in rich soils using traditional hand planting and hand harvesting methods. They offer a large variety of fresh vegetables such as Tomatoes, Cucumbers, Beans, Broccoli and Cauliflower, Sweet and Hot Peppers, Lettuces, Carrots, Garlic, Onions, Summer and Winter Squash, Chard and more.
Pattison Farms is committed to providing the best quality Certified Organic produce and vegetable starts. Gerry and Dagmar welcome you to visit the Farm Stand and pick up fresh, just-picked seasonal veggies and plants.
Cerified Organic by I.O.P.A. #1931